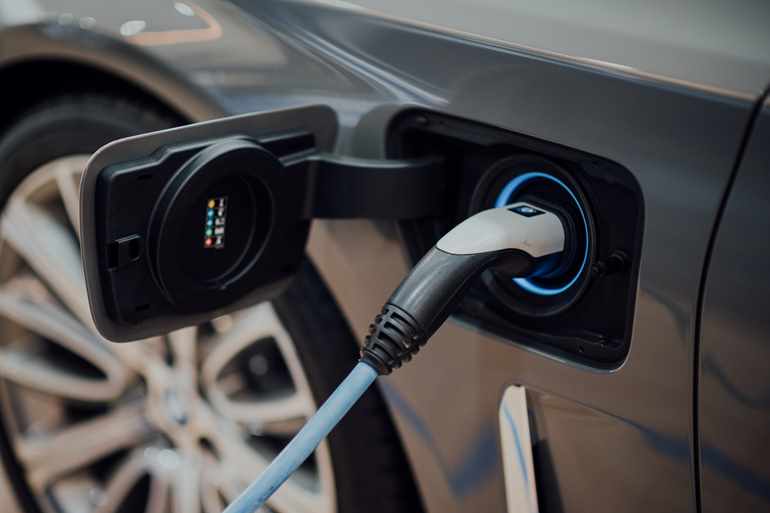 In order to charge electric vehicles (EVs), they must be plugged into a charge point. Here in the UK, there are four different places where EV charging typically takes place: at work, at home, at service stations and public locations.

In the following sections, we'll look at each of these places where charging happens in detail and explore what is involved.


Charging EVs at home
Providing that they possess off-street parking, EV owners can charge their car at home after having a home charging point installed. For most drivers, home charging is the most convenient option to power up an EV, especially as you can plug it in and charge overnight. Imagine never having to visit a Petrol station again! 

A home charge point offers some of the fastest charging speeds, delivering around 10 to 30 miles worth of range for every hour an EV is plugged in. Domestic EV chargers have in-built safety features, and many are Wi-Fi enabled offering user access to smart features like online software updates and energy monitoring. Many come with options to charge at optimum times to reduce the electricity cost. This is typically late in the night when most Brits' are asleep in bed. 

Standard home chargers come with attached cables that just need plugging into EVs to begin charging. However, some also ship with a universal socket that can accept a separate cable that plugs into EVs in the same way.

While it is not advised, EVs can also be plugged into a 3-point plug at home. However, charging is much slower and unlike dedicated chargers, safety features will not be engaged.
"Places, where chargers may be installed, include gyms, retail parks, cinemas, supermarkets and even car parking facilities in town centres."
Charging EVs at work
EV charging at work is also a convenient option. While EV drivers carry out their daily duties, their car can charge up. Many enterprises across the UK are now including EV charge points for both visitors and staff with many even using them to power fleets of electric vans and company cars.

Workplace charging stations offer similar charging speeds to home charging installations and typically use Type 2 (universal) sockets. As a result, EV drivers will need to bring their own cable to work when charging. Some EV cars come with Type 2 chargers when buying the vehicle. 

Different systems are deployed for workplace charging. You may simply need to plug in your EV to start charging or use a smartphone app or RFID swipe card to begin.


Charging EVs at service stations
While you might be able to charge an EV at home or work, if you're undertaking a long-distance trip there's a chance you might need to top up your battery to cover the range required. In such cases, EV drivers can take advantage of the UK's growing network of high-powered rapid chargers installed in motorway services stations around the UK.

As these solutions deliver a great deal of electricity in a short time and are more expensive, a rapid charging facility is typically provided in return for payment. The charging cables are pre-connected to the charging stations, so drivers don't need to carry their EVs charging cable. While there are three different rapid charge connector types, most stations will offer all three as an option or at least both kinds of DC standards.


Charging an EV at a public location
Many destinations across the UK that are open to the public now offer EV charging. As a result, drivers can charge up their vehicles while they carry out other tasks or socialising. Places, where chargers may be installed, include gyms, retail parks, cinemas, supermarkets and even car parking facilities in town centres.

Most drivers find that fully charging their EV battery is unnecessary at a public destination but topping up can be useful. Recharging an EV battery pack from empty takes far longer than when it still contains a half charge.

In most cases destination or public charging stations typically offer around 7 kilowatts of charging, providing between 20 and 30 miles worth of range for every hour an EV is plugged in.

Many businesses will provide free EV charging to the public as an added incentive to encourage customers to visit. To make use of destination charging you'll require your charging cable and may need to download a dedicated smartphone application. Older models of charge points may still request the use of an RFID card, but this method is slowly being phased out. 
One great mobile app for finding EV charging points near you is Zap Map. It is also very useful for planning trips in an EV.
Whether you're thinking about getting an EV or have already ordered one we wish you all the best! 
At Direct Gap we provide Gap Insurance for all vehicles including electric. Our knowledgeable team will be happy to assist you with any questions about Gap Insurance you may have. Visit Direct Gap here.