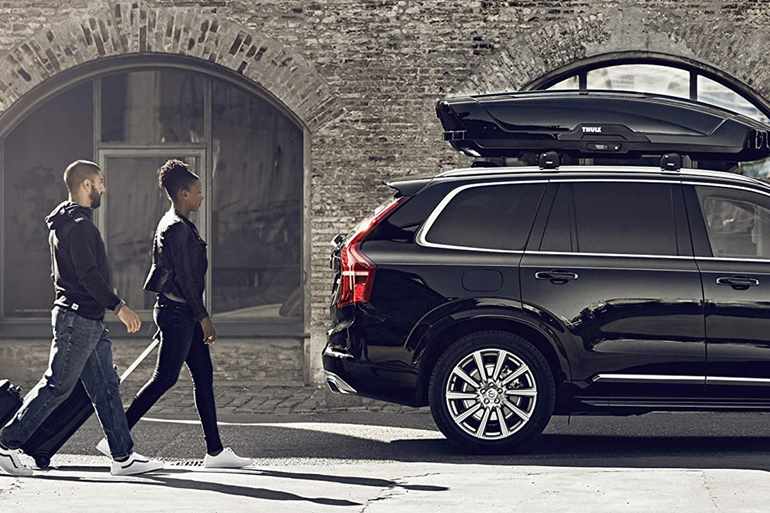 Business trips can mean a lot of time spent behind the wheel. Maximise your business opportunities and travel in comfort and style with these 10 car accessories that make business on the road that little bit easier.
Travelling between meetings can mean eating on the go. It's not always easy to keep the car nice and clean, but the Armor All 12V Car Vac definitely makes it easier.
Lightweight and compact, simply plug it into your 12-volt socket and hoover away! It even comes with a carefully designed sloped tool, which makes it easier to reach those troublesome areas that seem to attract crumbs.
Got a lot to take with you? Don't squish your suits on the backseat to make room for your business products. Instead, check out the spacious rooftop cargo box by Thule.
With dual side opening which allows for easy access, this hardshell roof-rack is sleek in a metallic black finish and aerodynamic. Perfect for carrying all your essentials to those product-sample meetings.
Cut the queues for drive-thru coffee stores and instead make your perfect espresso on the go with the Handpresso Auto.
Plugging into your 12-volt socket, this coffee maker creates your perfect espresso shot in just 2 minutes. Compatible with both Nespresso, ESE pods and ground coffee, all you need is your favourite roast and some cold water for the perfect shot.
Not a coffee enthusiast? Prefer tea? Or want to make an instant snack on the go? Why not swap the Handspresso Auto for the SUNSBELL Car Kettle Boiler instead?
Just like the Handspresso, all it requires is cold water and a cigarette lighter. Carefully designed to fit the average cup holder, the kettle comes with a safety lid, and has a 750ml capacity - meaning it can make tea and soup on the go!
5. Inflatable Car Bed
Take a break in comfort with the inflatable car bed from Autocastle. Suitable for most 5-door cars, the inflatable mattress allows you to turn your back seats into a plush double bed. It even comes with 2 pillows, a repair kit, and an easy to use inflator/deflator mechanism.
Keep organised on the road with this quality PU leather backseat car organiser. Professional and sleek in design, it measures 26" x 18", and fits most vehicle seats. It contains 9 separate pockets, with space for phones, tablets, chargers, drinks and important documents - so you are within easy reach of all your essential items.
No matter where you're going, or how long your trip is, you should always carry a first aid kit with you in your car.
TripWorthy offer a substantial kit, with 100 essential items you could need during an emergency. Weighing in at just 1 pound, it's durable, lightweight and definitely compact.
Need a pop up office on the road? Swap your steering wheel for your desk with AutoExec's Wheelmate natural wood desk. Sleek in design, it can be attached to your steering wheel whilst the car is parked.
Big enough to hold a small laptop and tablet, it can also be used for writing and eating.
Ideal for anyone with a QI Wireless charging device, the iOttie dash and windshield mount makes driving on the go easy and convenient.
Designed to support all smartphone sizes, it also comes with a telescopic arm to offer the perfect position. So, whether you're using your phone for directions, or listening to your favourite podcast, you don't need to worry about draining your battery during your journey.
Detect slow punctures or air leaks on the go with ZUS - the latest in-car gadget from Nonda. Allowing you to track your tire pressure in real-time through your mobile phone, an innovative AccuTemp Algorithm will alert you of any concerns and allow you to stop and re-fill or repair.
We know that tyres can easily cause you problems, and are a common fault when it comes to vehicle breakdowns. With our tyre insurance, you can have peace of mind when out and about on your travels, because we'll be here to help if and when you need it.
For more information about our tyre insurance, or any other Gap Insurance UK policies, contact us here.